| | | |
| --- | --- | --- |
| | | Dr. Flockshorn Character Description |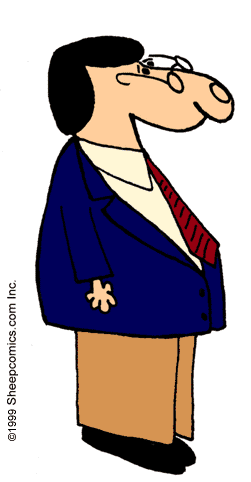 Dr. Flockshorn is the Ultra Senior Pastor and CEO of Meadowbig Mainstream Church. His feelings would be hurt if you called him CEO to his face, but he's a better CEO than many who get paid in the secular world to be one. He puts the "corporate" in corporate worship.

A true visionary, Dr. Flockshorn has a vision of the entire city of Meadowfield coming to a saving knowledge of the Great Shepherd. He also has a vision of several square miles of parking lot, an amphitheater large enough to hold the entire city at once, and a spectacular "corporate dynamic worship service" every Sunday morning with himself as the main attraction.

One thing Dr. Flockshorn can't envision is that the city of Meadowfield could be brought to the Great Shepherd through any methods other than his own. The Church can't grow in Meadowfield unless it grows as a single church corporation, meeting all at once in a single building, under the control of Dr. Flockshorn.

Dr. Flockshorn is highly educated. While earning his PhD he completed many years of instruction in public speaking, church administration, worship service choreography, and a thorough indoctrination in the traditions of churchianity. He even managed to squeeze in a few Bible courses along the way.



All text and images ©1999 Sheepcomics.com Inc. All Rights Reserved.