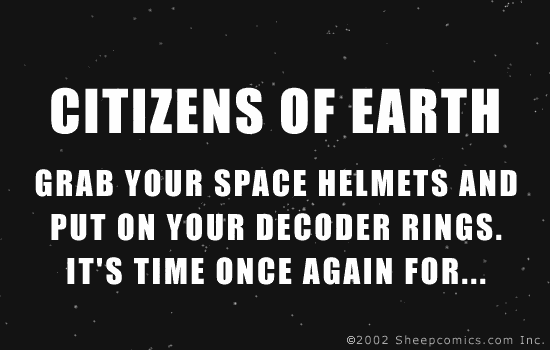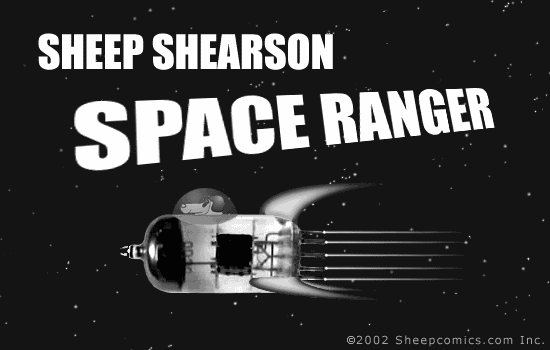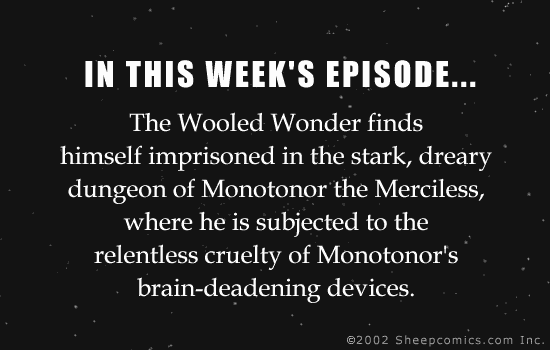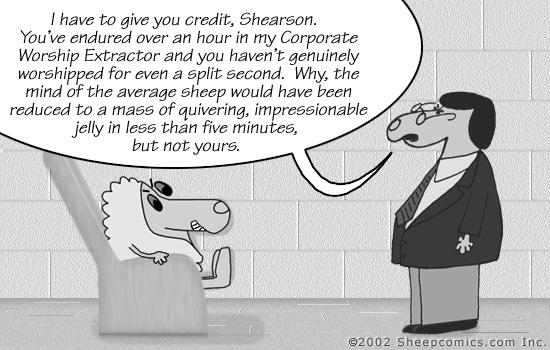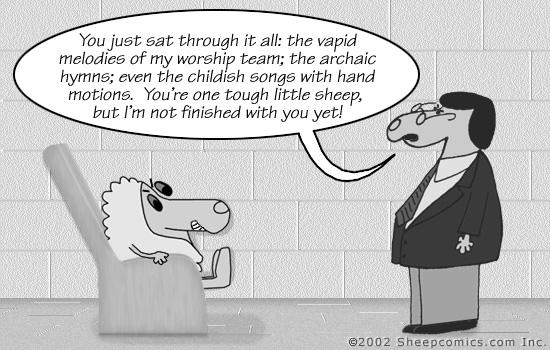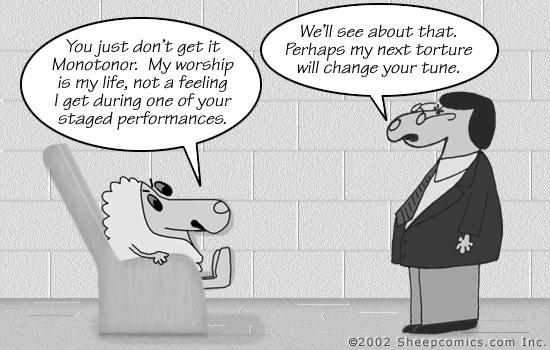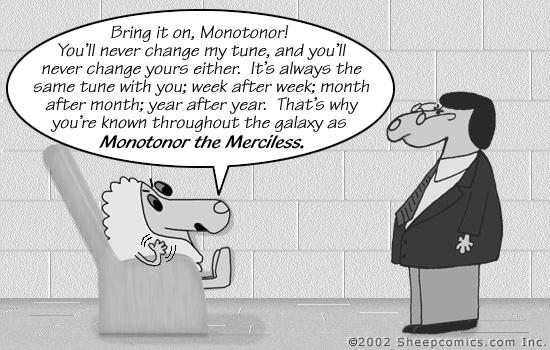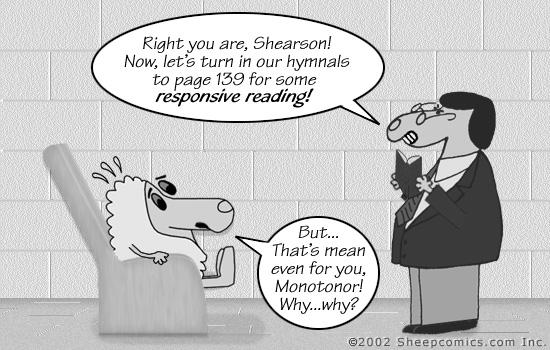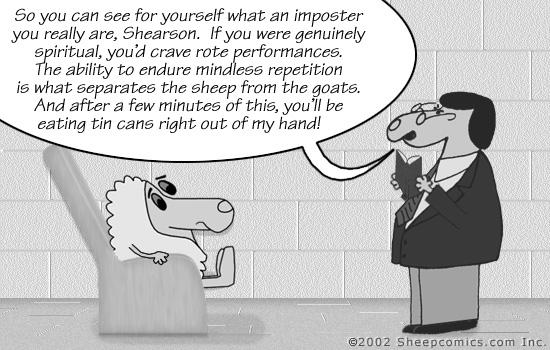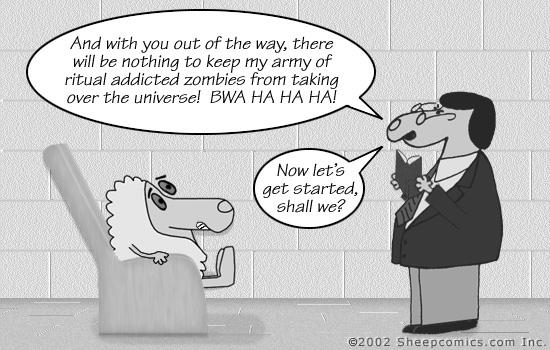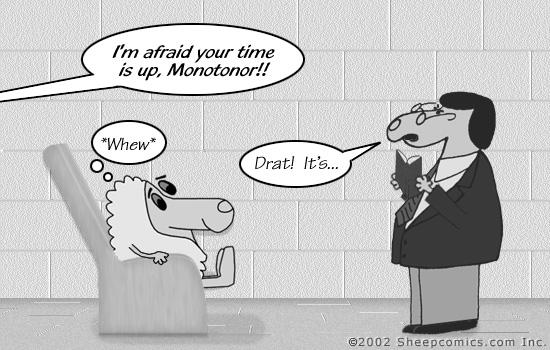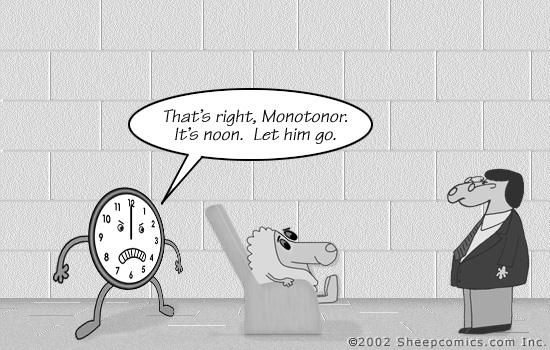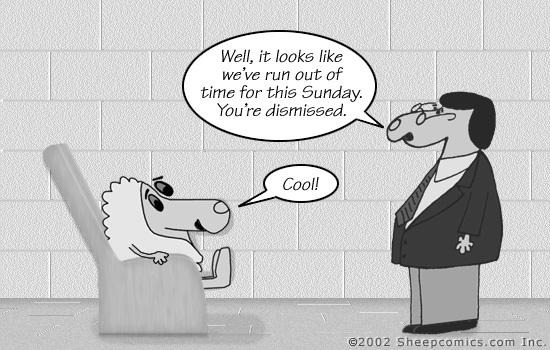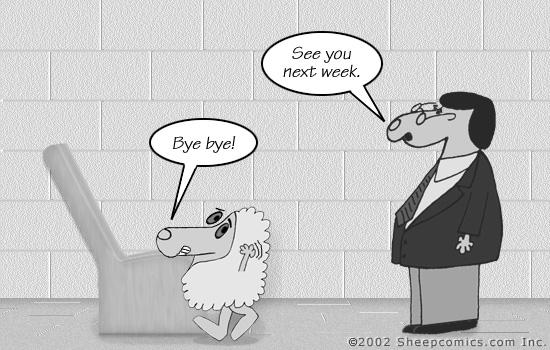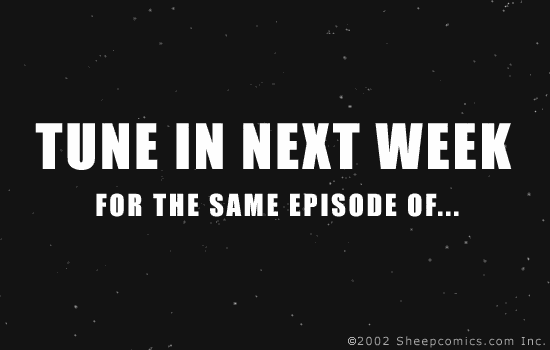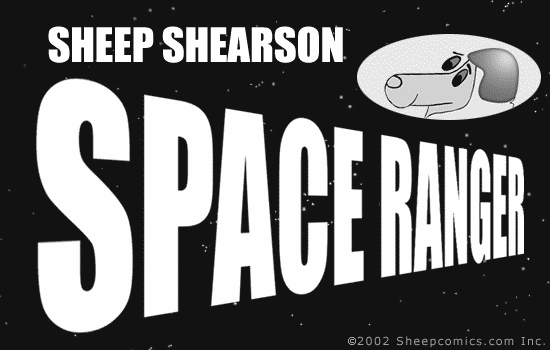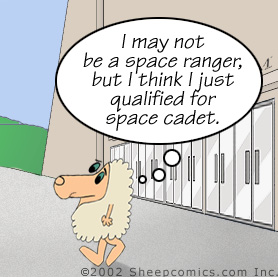 Editorial Notes
Well, here I am with a freshly completed, 17 panel episode that I canít really say much about without giving away all the humor in advance. So, Iím going to write my little blurb about something different. Sort of different, anyway.
Not too long ago I became interested in what is called "post-modern Christianity". I did some surfing around and browsed some web sites that claimed to represent this "post-modern" Christianity in an effort to determine how it might be different from "modern" Christianity, which is what I assume Iíve been exposed to all my life.
What I discovered was both encouraging and discouraging. Now, Iím not going to write at length on "post-modern" Christianity because I still donít think Iíve got it figured out, but I will share one thought that occurred to me as I tried to figure out where "modern" leaves off and "post-modern" begins. The one thought I can share, without sticking my neck out too far, is that itís really hard to tell! What is it that puts the "post" in "post-modern"?
Iím not sure, but if thereís one common thread that seems to run through many of the "post-modern" church stuff out there is this idea of "post-modern worship". A church with post-modern worship seems to have the freedom to actually change the way things are done in its worship. There are actually churches out there now where itís OK to try something different on Sunday, or to try something different on a day other than Sunday. Thatís the encouraging part for me. (Also, these post-modern churches seem to have figured out what good coffee is.)
However, I ended my first study of "post-modern" Christianity feeling more sad than anything else. It seems that the more things change, the more they stay the same.
Much of my disillusionment with "church" began when I started feeling like the primary mission of modern church leaders was to cram a week of Christianity into a 90 minute ordeal of manipulative ritual-bytes all trying to get me to feel the way they thought I should. It didnít work very well, and whatís worse is that it never changed. Ten solid years of church-going and nothing ever seems to change. The same songs; the same people; the same approach to the Eucharist. It gets old.
Now, here comes the "post-modern" church with an immense arsenal of technology, media and art forms all trying to do the same thing: engineer experiences for people. Is this really an advance? Is all this really necessary? From a Christian perspective, I donít know which is worse: tradition-bound corporate manipulation that never changes, or a post-modern "worship leader" with a new experiment every week. (I am sure which is the most boring, though.)
God has provided very simple instructions for those who really want to be close to Him. Itís something we must do as individuals. No "worship service" or "worship team" can do it for us. Below Iíve arranged some passages of scripture that seem to build on each other. Perhaps youíre familiar with them, but try reading them in this order.
"The God who made the world and everything in it is the Lord of heaven and earth and does not live in temples built by hands. And he is not served by human hands, as if he needed anything, because he himself gives all men life and breath and everything else. From one man he made every nation of men, that they should inhabit the whole earth; and he determined the times set for them and the exact places where they should live. God did this so that men would seek him and perhaps reach out for him and find him, though he is not far from each one of us. (Acts 17:24-27)




"For God so loved the world that he gave his one and only Son, that whoever believes in him shall not perish but have eternal life. For God did not send his Son into the world to condemn the world, but to save the world through him. Whoever believes in him is not condemned, but whoever does not believe stands ondemned already because he has not believed in the name of God's one and only Son. This is the verdict: Light has come into the world, but men loved darkness instead of light because their deeds were evil. Everyone who does evil hates the light, and will not come into the light for fear that his deeds will be exposed. But whoever lives by the truth comes into the light, so that it may be seen plainly that what he has done has been done through God." (John 3:16-21)




"Therefore let all Israel be assured of this: God has made this Jesus, whom you crucified, both Lord and Christ." When the people heard this, they were cut to the heart and said to Peter and the other apostles, "Brothers, what shall we do?" Peter replied, "Repent and be baptized, every one of you, in the name of Jesus Christ for the forgiveness of your sins. And you will receive the gift of the Holy Spirit. The promise is for you and your children and for all who are far off--for all whom the Lord our God will call." With many other words he warned them; and he pleaded with them, "Save yourselves from this corrupt generation." (Act 2:36-40)




Submit yourselves, then, to God. Resist the devil, and he will flee from you. Come near to God and he will come near to you. Wash your hands, you sinners, and purify your hearts, you double-minded. Grieve, mourn and wail. Change your laughter to mourning and your joy to gloom. Humble yourselves before the Lord, and he will lift you up. (James 4:7-10)




"And when you pray, do not be like the hypocrites, for they love to pray standing in the synagogues and on the street corners to be seen by men. I tell you the truth, they have received their reward in full. But when you pray, go into your room, close the door and pray to your Father, who is unseen. Then your Father, who sees what is done in secret, will reward you. (Matthew 6:5-6)
Can any church organization do these things for you? Can a "worship leader" or a "worship team" make this happen for you? Can "praise and worship" music do this for you, or does it require "alternative" music? Is this "modern" or "post-modern"?
Itís really just the Word of God, and itís been around for almost 2000 years. You have either done it, are doing it, or you havenít done it, and nobody is going to do it for you. Itís your choice.
Web Shepherd.