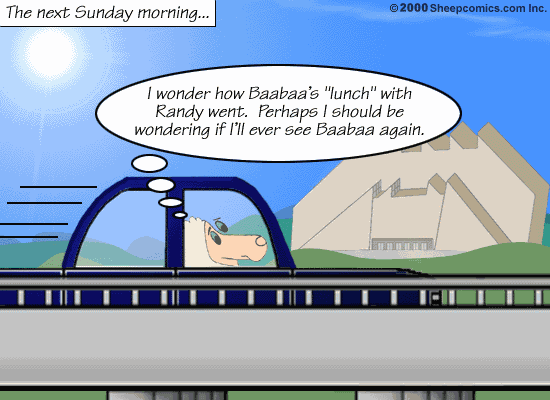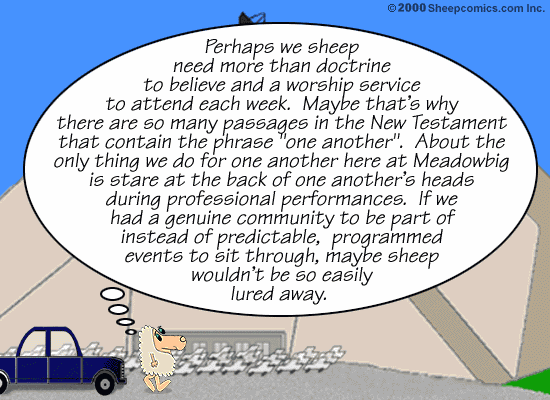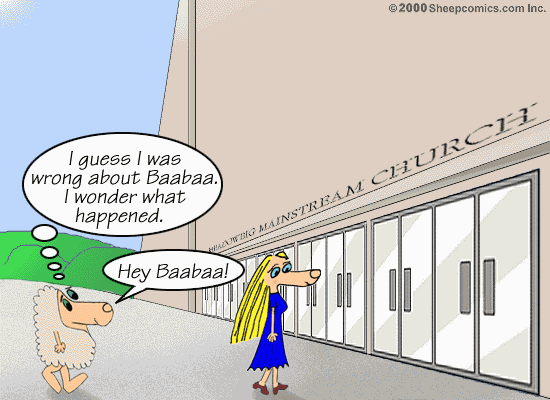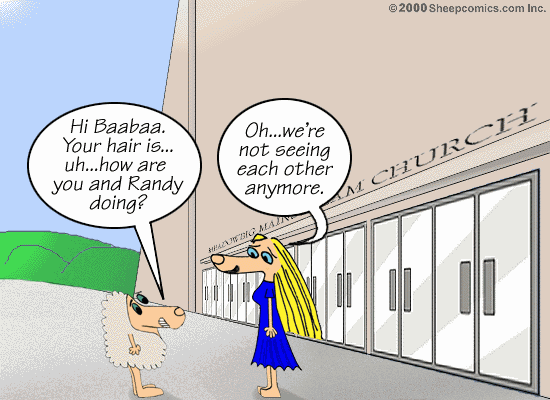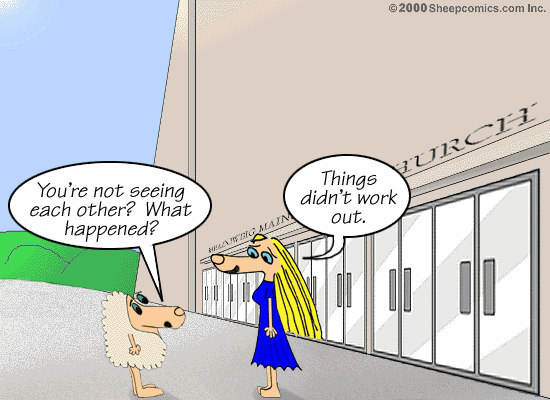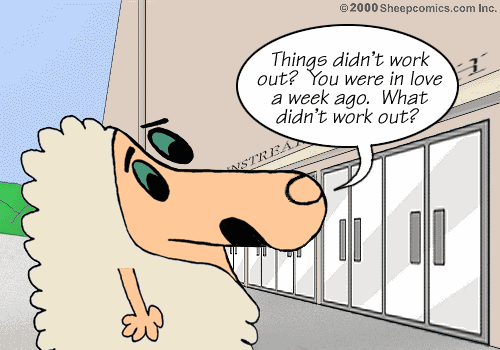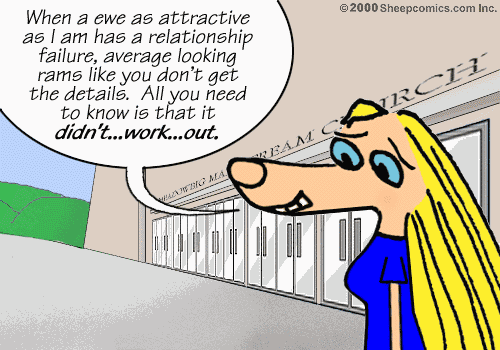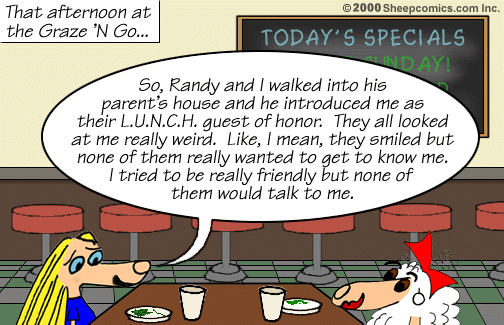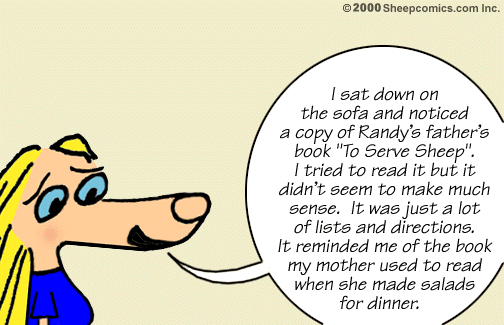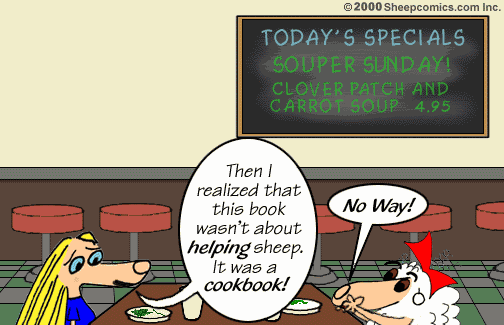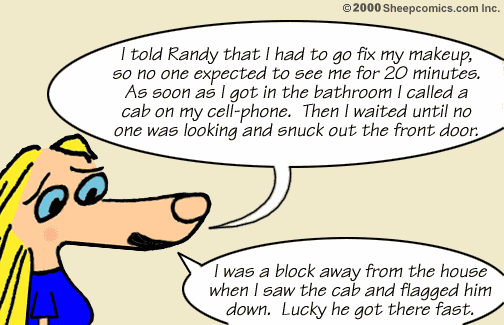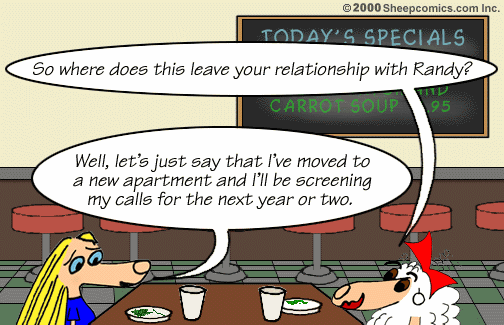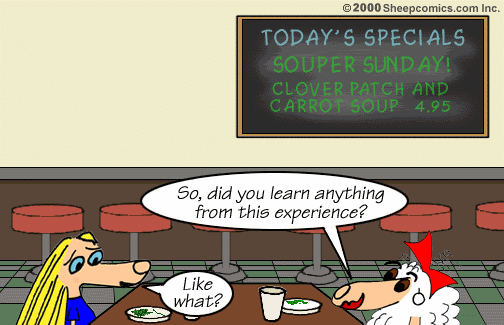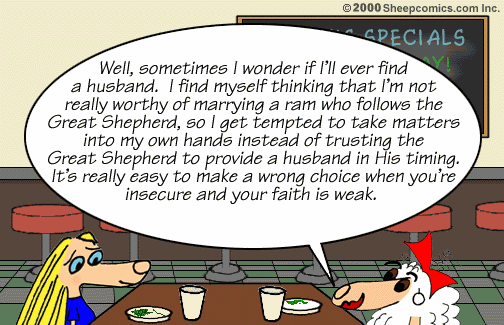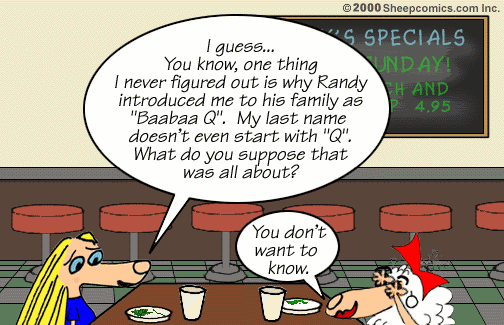 Editorial Notes
Here we are at the end of the first Sheep Comics™ mini-series. During the course of this series, I have received several very touching and thoughtful e-mails concerning the subject of Christian believers dating and marrying non-believers. Thank you to those who took the time to write.
What have I left to say that hasnít already been said in the comic strips and the editorials? I really canít think of anything, so Iím going to get some help from Tertullian, one of the great church fathers of the 2nd and 3rd centuries.
Itís sad that so many Christians know nothing of the Early Church Fathers. I only discovered them a few years ago myself. The Early Church Fathers were the church leaders between the end of the first century and the rule of Emperor Constantine. This is a period of a little more than two hundred years.
One of the most famous of the Early Church Fathers is Tertullian. He was born in about 145 AD and became a Christian in about 185 AD. He became a bishop in Carthage in about 190 AD.
(If you want to see a really cool site about Tertullian, Click Here.)
One of the real gems I discovered among the writings of the Early Church Fathers is Tertullianís "Letter to his Wife". There are actually two letters, and the subject is Tertullianís advice to his wife as to what course to take concerning marriage should Tertullianís life end before hers. Itís a very moving letter, and is well worth reading from start to finish. I hope a few of you will do this.
Here is a link to Tertullian's Letter to his Wife Book I.
Here is a link to Tertullian's Letter to his Wife Book II.
I will end this series "A Boyfriend for Baabaa" with the closing paragraph of Tertullianís "Letter to his Wife" (Book 2, chapter 8). I wish every Christian single person would read this.
To a Christian believer it is irksome to wed a believer inferior to herself in estate, destined as she will be to have her wealth augmented in the person of a poor husband! For if it is "the poor," not the rich, "whose are the kingdoms of the heavens," the rich will find more in the poor (than she brings him, or than she would in the rich). She will be dowered with an ampler dowry from the goods of him who is rich in God. Let her be on an equality with him, on earth, who in the heavens will perhaps not be so.

Is there need for doubt, and inquiry, and repeated deliberation, whether he whom God has entrusted with His own property is fit for dotal endowments? Whence are we to find (words) enough fully to tell the happiness of that marriage which the Church cements, and the oblation confirms, and the benediction signs and seals; (which) angels carry back the news of (to heaven), (which) the Father holds for ratified?

For even on earth children do not rightly and lawfully wed without their fathers' consent. What kind of yoke is that of two believers, (partakers) of one hope, one desire, one discipline, one and the same service? Both (are) brethren, both fellow servants, no difference of spirit or of flesh; nay, (they are) truly "two in one flesh." Where the flesh is one, one is the spirit too.

Together they pray, together prostrate themselves, together perform their fasts; mutually teaching, mutually exhorting, mutually sustaining. Equally (are they) both (found) in the Church of God; equally at the banquet of God; equally in straits, in persecutions, in refreshments. Neither hides (ought) from the other; neither shuns the other; neither is troublesome to the other.

The sick is visited, the indigent relieved, with freedom. Alms (are given) without (danger of ensuing) torment; sacrifices (attended) without scruple; daily diligence (discharged) without impediment: (there is) no stealthy signing, no trembling greeting, no mute benediction. Between the two echo psalms and hymns; and they mutually challenge each other which shall better chant to their Lord. Such things when Christ sees and hears, He joys. To these He sends His own peace. Where two (are), there withal (is) He Himself. Where He (is), there the Evil One is not.
Iím happy to say that my marriage includes at least some of what Tertullian describes above.
Web Shepherd.