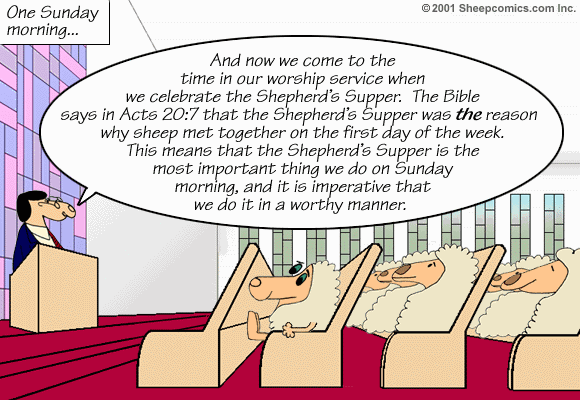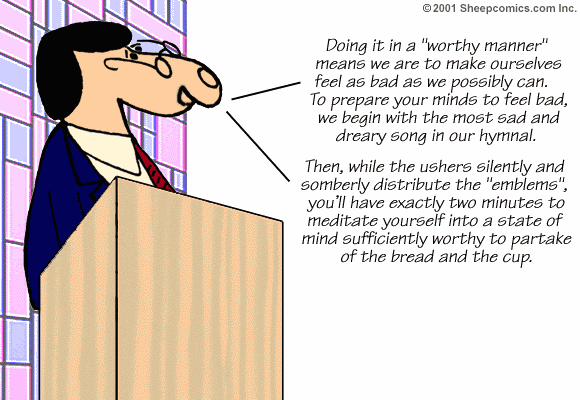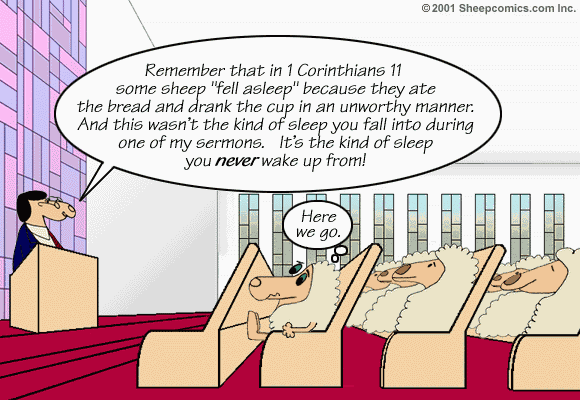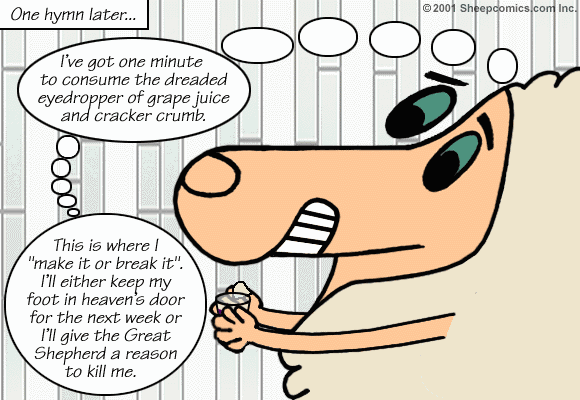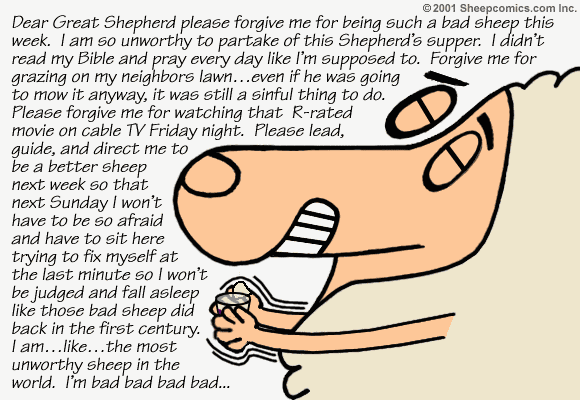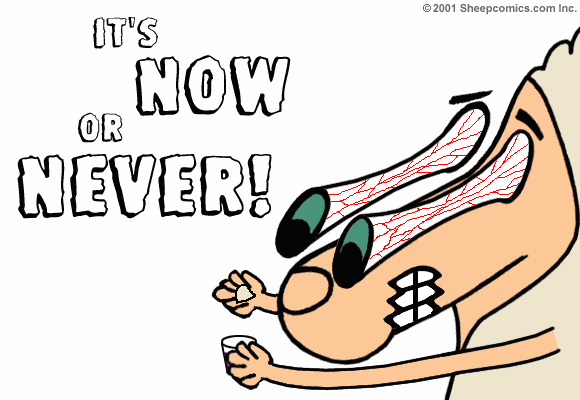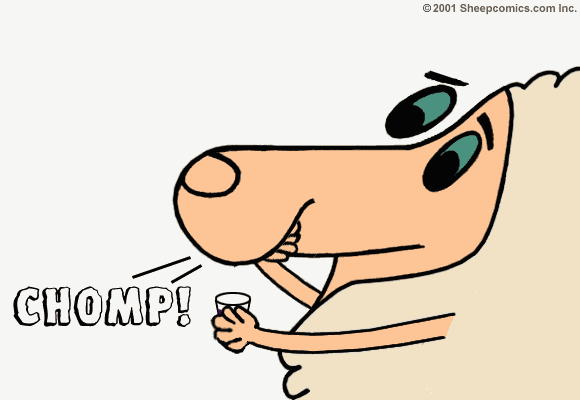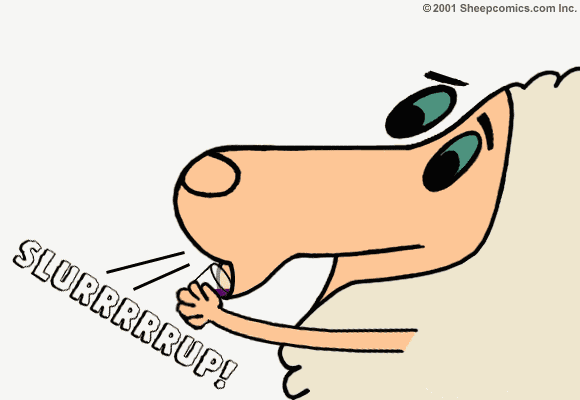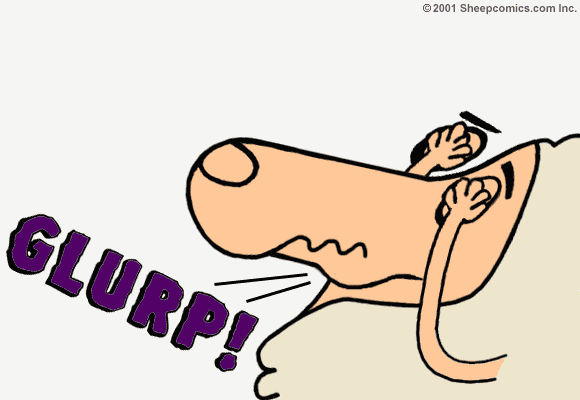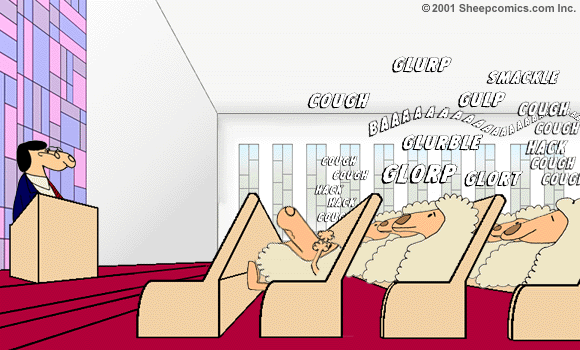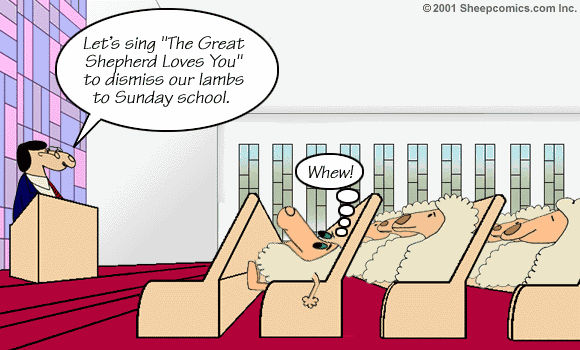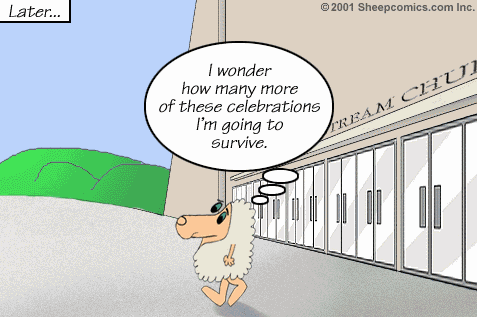 Editorial Notes
This editorial is going to require that you use your imagination a bit. Iím going to ask you to visualize in your mind a series of events as I describe them.
Imagine yourself in great financial need. Perhaps you "maxed out" all your charge cards and then got laid off from your job. A friend tells you of someone he knows who is very rich and very generous. This friend arranges for you to meet this person.
To your amazement, this rich person really seems to care about you. He learns from you that you are out of work and heavily in debt. Before you know it, heís reached for his check book and written you a check big enough to pay off all that you owe! You are astonished. Where do people like this come from?
Not only that, but he invites you over to his house next week for supper. Overjoyed, you accept his invitation. You offer to bring something, but the rich person gently explains that this isnít a "potluck" (or a "pitch-in" for those in the Midwest). Everything has been provided. All you have to do is come and "partake."
You arrive at the rich personís house with great anticipation. One of the servants ushers you, along with a hundred others, into a large room where the supper will be served. "Wow", you think, "this rich person sure has a lot of friends". Of course, being so generous, why shouldnít he?
But things look a little strange. You imagined in your mind a huge spread with all kinds of food on a big long table with a fancy table cloth. Instead, you see a little table on one side of a room. Sure, the table is covered by a nice cloth, but there are only two dishes on the table. How is such a small amount of food going to serve all these people?
The seating isnít what you expected either. There are a hundred chairs arranged in rows all facing one direction. "This doesnít look like any supper Iíve ever been to", you think.
Now the rich person walks into the room and asks everyone to take a seat and be quiet. No talking allowed. The servants walk over to the room near the table with the two dishes on it. On one dish is a pile of cracker crumbs, while on the other is a hundred little tiny inch-tall plastic cups with a few drops of liquid in each.
The rich person announces that the dishes will be passed around, and that everyone is to take one cracker crumb and one little cup, no more. No talking is allowed; everyone must sit with their faces straight and their eyes forward.
Once everyone has a cracker crumb and a tiny plastic cup in hand, the rich person announces that it is time to "partake" of his supper. Thereís just one catch: you have to "partake" of it in a "worthy manner". If you donít, you will die. No one bothers to explain to you exactly what "worthy manner" means. You are left to take your best guess.
The household servants pull compact machine guns out from under their dinner jackets and pull back the bolts. (Any American whose watched an average amount of TV violence knows what that sounds like.) Now the silence is so thick you can hear every single bodily function of the hundred people seated around you. Every slurp, lip-smack, gulp, cough, etc. Supper has been served. Bon appetit!
Was this fun? Did it feel like something you would want to do again? Would you want to do this to someone else? I sure wouldnít! What if you had to do this every week for fear of offending the rich and generous person who bailed you out? How would you feel about this person after a few weeks, or a few years? Did any part of the "supper" I just had you imagine seem familiar?
Iíve spent about two decades going to churches where The Lordís Supper is celebrated every week. I didnít think about it much during the first decade. It was something you did when you "went to church". You couldnít really go wrong if you sang the sad song, kept silent, and acted really serious about what you were doing.
Still, it had always seemed like a strange, forced, and unnatural thing to do. It was during the second decade of my church going that I started reading the Bible and asking myself "why do we do things this way?"
What is this Lordís Supper really all about? Why do I need to be threatened and forced to meditate over a tiny amount of food each week? How is it possible to die by eating a piece of a "soda cracker" and a drinking a few drops of grape juice in an "unworthy manner". Once I get home I can wolf down all the soda crackers and guzzle all the grape juice I want in complete safety. Why are such small amounts of these so dangerous during a certain few minutes Sunday morning in church?
Surely it must have something to do with 1 Corinthians 11. This is where Paul explains to some in the Corinthian church that they were "sick", "weak", and "falling asleep" (a nice way to say "dropping dead") because they were eating and drinking without recognizing the body of the Lord. Is this why passages out of 1 Corinthians 11 have been read to me from the pulpit innumerable times over the last 20 years? Is this why I must be threatened with death, so that Iíll feel bad and behave myself during the 10-minute ceremony called "The Lordís Supper".
What I canít so quickly bring to mind are all the times someone really took me through the entire "Lordís Supper fiasco" in 1 Corinthians 11:17-34 and explained to me exactly what they were doing back there and what went wrong. This I had to do for myself, and I would like to do the same for you. Weíll take it verse-by-verse using the New International Version. This is not intended to be a rigorous commentary. Iím just trying to share with you an alternative point of view. The scriptures are in bold, my comments are not.
In the following directives I have no praise for you, for your meetings do more harm than good.
Itís good to remember that 1 Corinthians is a letter responding to a letter from Chloeís household. See 1 Cor 1:11. If only the letter from Chloeís household to Paul had been preserved!
In the first place, I hear that when you come together as a church, there are divisions among you, and to some extent I believe it.
Paul has already given us detail on the nature of these divisions. See the first chapter of this letter.
Itís ironic to me that today the church is divided into thousands of factions. Back then, there were divisions when they came together as a church. Now, most every church building represents a "division" of Christianity. The first thing you must do is decide which "faction" to celebrate the Lordís Supper with.
No doubt there have to be differences among you to show which of you have God's approval.
This is difficult, but it looks like Paul may be saying that since there are so many carnal individuals in this church, even those who are genuinely spiritual would seem to be a separate faction among them.
When you come together, it is not the Lord's Supper you eat,
Traditional teaching leads us to assume that there was already a defined ceremony called "The Lordís Supper" that was done a certain way (the way we do it today, Iím sure) and that the church in Corinth was somehow "doing it wrong".
Imagine my surprise when I opened up my interlinear NIV/Greek bible and read the same passage. It said, "When therefore ye come together not it is of the Lord a supper to eat". To me, there is a difference between "the Lordís Supper" and "of the Lord a supper to eat". What happened to the "the"?
To me, Paul is saying "When you come together, you are not eating a supper belonging to the Lord." Or, another way, "you are not eating a supper that the Lord would own."
Why doesnít their supper qualify as a "Lordís Supper"?
for as you eat, each of you goes ahead without waiting for anybody else. One remains hungry, another gets drunk.
Now, does this sound like anything that could possibly happen during a "Lordís Supper" in church? I could have eaten all the soda crackers set before a congregation of two hundred people and still have been hungry. Have you ever had a problem with someone drinking all the little cups of juice right before church and leaving nothing for everyone else? Iíve never seen that. Is this really a problem today?
Don't you have homes to eat and drink in? Or do you despise the church of God and humiliate those who have nothing? What shall I say to you? Shall I praise you for this? Certainly not!
Now we get the scoop as to what exactly was going wrong. It looks like there were some definite "haves" and "have nots" among these Corinthian Christians. It looks like the "haves" were selfishly "pigging out" amongst themselves, oblivious to the fact that others among them had "nothing". By the time the "have nots" (perhaps the people who had to work all day) arrived, the "haves" had already "had" all the food!
It is obvious to me that this section of Paulís letter is aimed directly at the affluent members of the Corinthian church, not at everybody. Paul address those who "have homes to eat and drink in". The rhetorical question indicates to me that not everyone did.
What I see in my mind when I try to imagine this scene are groups of "haves", perhaps even divided into the various factions already described in chapter one, having private suppers during a time that was set aside for communal supper. A group of buddies grabbed some grub and went to a corner of the house to eat it together. This communal supper was for all the Corinthian church members, and it was to be a blessing in particular for those had "nothing", not the humiliating disappointment that it actually turned out to be.
If some of these affluent Corinthian Christians wanted to have a private supper, they should do it in their own homes. When they come to the Lordís supper, they should do so with an eye to providing for others, not just feasting among themselves. The Lord fed people, and commanded us to do likewise.
For I received from the Lord what I also passed on to you: The Lord Jesus, on the night he was betrayed, took bread, and when he had given thanks, he broke it and said, "This is my body, which is for you; do this in remembrance of me." In the same way, after supper he took the cup, saying, "This cup is the new covenant in my blood; do this, whenever you drink it, in remembrance of me."
This is very much like Luke 22:19-20.
And he took bread, gave thanks and broke it, and gave it to them, saying, "This is my body given for you; do this in remembrance of me." In the same way, after the supper he took the cup, saying, "This cup is the new covenant in my blood, which is poured out for you.
It should be no surprise that Paulís description of the Last Supper is so close to the account in Lukeís gospel. Luke had joined Paulís ministry before Paul established the church in Corinth. By the time Paul wrote this letter to Corinth, he had probably spent a lot of time with Luke.
If we Christians of today are so interested in following Jesusí example, why donít we break bread, have supper, and then drink from the cup after supper? This is what Paul passed on to the church in Corinth. The sequence was bread, supper, cup. Today, the sequence is bread, nothing, cup.
For whenever you eat this bread and drink this cup, you proclaim the Lord's death until he comes. Therefore, whoever eats the bread or drinks the cup of the Lord in an unworthy manner will be guilty of sinning against the body and blood of the Lord.
Now, what exactly was "unworthy" about the way these rich Corinthians were eating the bread and drinking the cup?
Note that the issue here is not whether or not they were worthy to eat the bread or drink the cup, but rather that they were doing so in an "unworthy manner". The manner in which they were eating and drinking was "unworthy". The Greek word behind "unworthy" is "anaxios". "Anaxios" is the opposite of "axios", which means "worthy", "deserving", "comparable". So, "anaxios" would mean "unworthy", "undeserving", or "incomparable".
Letís use our imagination again. Suppose someone got up in front of a group of supper guests and said a blessing honoring Jesus while breaking bread, and then proceeded to distribute that bread, and the rest of the food, in a way that completely neglected the poor guests.
How "worthy" or "deserving" is such a person to proclaim the death of the Lord? Isnít this the same Lord who told the parable of the sheep and the goats in Matthew 25? The goats are the ones who see the hungry and donít feed them. This is exactly what the rich in Corinth were doing. They were supposedly holding a supper to honor Jesus while behaving in the exact way that Jesus said would land a person in hell.
A man ought to examine himself before he eats of the bread and drinks of the cup.
In my opinion, Paul is commanding these careless, affluent Corinthians to really think about what they are doing. Before holding a supper to honor the Lord, examine yourself to be sure that you are approaching it the way the Lord would, or in a way that genuinely reflects the character of Christ.
What I donít believe Paul said was to turn the entire event into a meditation session over tiny, symbolic amounts of food. Paul put the self-examination before eating of the bread and drinking of the cup, not while eating of the bread and drinking of the cup.
For anyone who eats and drinks without recognizing the body of the Lord eats and drinks judgment on himself. That is why many among you are weak and sick, and a number of you have fallen asleep. But if we judged ourselves, we would not come under judgment. When we are judged by the Lord, we are being disciplined so that we will not be condemned with the world.
It is interesting to me that there are only two places in the New Testament where we see Christians behave in such a way that they bring the "death penalty" on themselves. This is one place, and the other place is in Acts 5 where Ananias and Sapphira die after lying about the price of a piece of land they sold.
Is there a similarity between the two? Yes. In both places there are wealthy Christians who make a pretense of helping the poor when they are really out to bring honor on themselves.
Back in Acts 5, Ananias and Sapphira wanted everyone to believe that they were contributing to the needy all the money they received for a piece of land, when in reality they had kept some of the proceeds for themselves. They were willing to lie to get honor they didnít deserve.
Here in Corinth we have wealthy Christians holding a supper for an entire church community, some of whom "have nothing", while their real interests are to feast with those of their own social standing or faction within the church. Food is distributed according to oneís particular faction or social status.
In both Acts 5 and 1 Corinthians 11, the means of helping the poor were readily available but were held back by the rich. This is an abomination to the Lord.
So then, my brothers, when you come together to eat, wait for each other. If anyone is hungry, he should eat at home, so that when you meet together it may not result in judgment. And when I come I will give further directions.
Itís amazing to me how anti-climactic Paulís final comments are. The remedy is simply "wait for each other". Those who are hungry and have food should eat in their own houses so that when they go to the communal supper they can look out for their brothers and sisters in need. Than they can think with their hearts instead of their stomachs and can concentrate on giving instead of taking
Paul did not tell them to stop having a supper. They are still "coming together to eat", not just silently meditate. The solution to the "have nots" going hungry was not to have the rich eat at home and bring nothing for the "have nots" except bread crumbs and juice drops. The solution was to wait for each other and make sure everyone got fed. Remember that not everyone could eat at home, just the affluent to whom these commands are directed. Paul did not command them to turn the entire event into a 10-minute meditation exercise over bread crumbs and few drops of juice.
I donít know exactly we got from the Jesusí pathos-filled Last Supper to the stoic, symbol-supper we typically perform today. I havenít found anywhere in the Bible, Old Testament or New, where people honored God by eating tiny, symbolic amounts of food. I would guess that the change occurred gradually over time, and going into that would make this already-too-long editorial even longer.
One thing I do know is that it is almost impossible to sin the way the Corinthian church did given the ascetic ceremony that tradition has handed down to us as "The Lordís Supper". Someone seems to have decided many years ago that our spirits and our bodies cannot be nourished at the same event. Thought is spiritual; matter is sinful. Nobody goes physically hungry at our Lordís Suppers because no one comes to be physically fed. Weíre there to meditate, alone in a crowd, with downcast eyes and long faces. Is the Lord really impressed by this?
Donít get me wrong. I donít believe that the traditional way we do "The Lordís Supper" is necessarily sinful. I just wish we could have a little more variety in our approach, and a little less intimidation.
Iíll leave you with some questions to think about.
Must the Lordís Supper always be just one of several "ritual bytes" programmed into a "worship service"? Why canít it be a separate, planned, and perhaps even beautiful event?
Why would I come together with hundreds of other believers to silently meditate by myself? One of the most basic cross-cultural characteristics of humanity is the coming together over food to be together, not to be alone.
Would it really be so wrong to break bread with a blessing, eat together, and finish with a cup and a blessing? This seems to be what Paul handed down to the church in Corinth. Why canít the Lordís Supper be a supper?
Must the Lordís Supper always be as brief as possible, with as little physical substance as possible? Does making it a silent, somber, clinical event really make it more acceptable to the Lord? Is that what Jesus really wanted us to do? Do we really honor Christ by doing as little as possible as quickly as possible?
Must we forever be punished for the misdeeds of careless, rich Corinthians who lived and died almost two thousand years ago?
Is it possible to nourish the body and the spirit at the same time? Why is it that we can bless bread and grape juice as long as we donít have a supper between them, and a few days later we can have "church potluck" dinners, but we arenít allowed to begin them by blessing and breaking bread or end them with a "cup of blessing". Why canít we do what Jesus did: begin a supper by breaking and blessing bread, enjoy a supper with good food and holy conversation, and end the supper with a "cup of blessing"?
If we examined ourselves beforehand, we might evenÖdare I sayÖenjoy it.
Web Shepherd